Welcome to the Twelve Kingdoms Wiki
The Twelve Kingdoms wiki is an encyclopedia about the light novel and anime series The Twelve Kingdoms by Fuyumi Ono. The main page will be going through various changes! Come discuss what you think should happen.
Currently
We have been editing 706 articles since March 29, 2010

We are working on adding more articles and more information to improve this wiki
Contents
Here are some things to visit while you're here

Inner Universe




Reader Information



Featured Article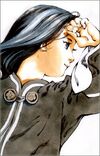 Taiki (泰麒) is the kirin of Tai, though is not fully mature and is actually a heina (an immature kirin), and Kokki, a rare black kirin. Like Youko, Shouryuu, and Enki, he is a taika from Hourai; as a result, he is known by the name Kaname Takasato (高里要, Takasato Kaname). After many years in Hourai, Taiki is eventually taken back to the Twelve Kingdoms in order to fulfill his role as the kirin of Tai.

Read more...
Random Quote

It is a lonely thing to be unable to comprehend the language spoke around you. But it is an even lonelier thing to understand another's speech, yet fail to understand their heart. To avoid such failure, one must learn not to make assumptions and accept others for who they are.
--Kouko, The Twelve Kingdoms: Skies of Dawn

News

Topic
Last Edit
Shushou Figurine
21:10, February 19, 2012
Wiki Updates
18:42, November 22, 2011
Fan Art Issues
19:22, November 16, 2011
Ranka, A Twelve Kingdoms fansite
15:07, July 9, 2011
Book 5
01:07, February 25, 2011
Twitter


Community content is available under
CC-BY-SA
unless otherwise noted.