Welcome to the Twelve Kingdoms Wiki
The Twelve Kingdoms wiki is an encyclopedia about the light novel and anime series The Twelve Kingdoms by Fuyumi Ono. The main page will be going through various changes! Come discuss what you think should happen.
Currently
We have been editing 712 articles since March 29, 2010

We are working on adding more articles and more information to improve this wiki
Contents
Here are some things to visit while you're here

Inner Universe




Reader Information



Featured Article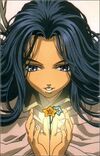 Shoukei (祥瓊) was the sheltered princess of Hou until her father's government was overthrown due to his overly strict enforcement of the law. Though she is spared from execution, she is forced to live the ordinary life of a peasant. Because she focuses entirely on her own unhappiness, her lack of awareness or empathy the suffering of others makes her unsympathetic to the ordinary people. Out of jealousy and misery, she eventually runs away to Kei in hopes for taking the life of Youko Nakajima, the new queen of Kei, whose rise in status coincides with Shoukei's own fall in fortunes.

Read more...
Twitter

<twitteruser username=WikiaAnime limit=4 />