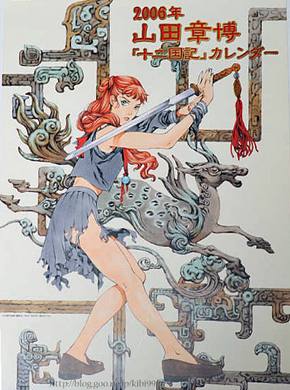 The Twelve Kingdoms 2006 Calendar (十二国記 2006カレンダー, Juuni Kokki 2006 Karendaa) is an item of merchandise. It features illustrations by Akihiro Yamada, the artist for the Twelve Kingdoms series, including an original artwork depicting Youko Nakajima and Taiki for the cover. Most of the illustrations in the calendar came from pre-existing artwork, such as DVD covers and music collections.
Product ID (ASIN): 4063579638
Release Date: 2005-11-25
Genre: Unknown
Author: Akihiro Yamada
Label: Kodansha
Artist: Akihiro Yamada
Community content is available under
CC-BY-SA
unless otherwise noted.